As in the previous year, the world was at the calamity of the coronavirus, although one vehement change happened to me. In April, I was diagnosed with Crohn's disease, one of the incurable diseases that, after the immune system had gone haywire, my intestines were perpetually inflamed. Because of it, I must take  severely restricted diet and the action of eating itself got painful. Well, this magazine is a place to talk about movies, so let's not go any further. Still, I must say that, it is an incurable disease that can never be cured, even if not a life-threatening disease, so I couldn't help but think about death for a while.
Then, something interesting happened. After I was forced to take absolute and take a large amount of medicine every day, my health, except for bowels, recovered dramatically, and the unexpected abundance of energy, combined with my fear for illness and death, led to an explosion of desire to leave behind a proof of my own life rather than to introduce other people's works. From April to now, I've written 70 short stories in Japanese, 30 essays on Crohn's disease, translated some of my stories into Romanian which was published on literary magazines, and started writing poetry too in Romanian as a Japanese poet in Romanian language. Looking back, it seems that I was in a desperation to create, even more so than last year.
As I wrote a lot of fiction and poetry, I also read more books than ever before, but I did not read many of the books I had been reading for a long time, such as novels and movie reviews. What I started to read instead were books in fields that are quite far from them, such as architecture, quantum mechanics, zoology and economics. I've read about 600 books so far, and I started writing a memo about books on notebook. I'm currently on my fifth notebook, writing about  thermodynamics and notes on a biography of Michael Faraday and James Clerk Maxwell.
The past years has been marked by the increasing presence of E. M. Cioran, a Romanian anti-philosopher who I have been obsessed with for a long time, and this time his some words have resonated in a prominently strong way with me during my epic binge reading experience.
"What makes bad poets worse is that they read only poets (just as bad philosophers read only philosophers), whereas they would benefit much more from a book of botany or geology. We are enriched only by frequenting disciplines remote from our own."
The reason I find it to be so true is that this reading experience has had a profound effect on the way I watch and write about films as a film critic too. I believe that I have always seen films that other people, or at least other Japanese people, have not seen and known, but I have found a different kind of film to be fascinating while this curiosity has expanded even further. I've also been influenced by especially architecture, thinking a lot about how to incorporate this knowledge into my film  criticism. But that's a topic for another article.
The twenty films I have selected here have been markers of the vehement upheaval brought by Crohn's disease and the transitional period that began with it, during which I'm transforming into something else. I have relied on these wonderful films to reach the place where I am today. With this article, I would like to express my deepest gratitude to them. Arigatou, mulțumesc.
20. "Patchwork" (Petros Charalambous, Cyprus)
In this work, the flame of Angeliki Papoulia, one of the bravest, alluring actors in the world, shows an unexpected brilliance. Hala, the protagonist played by her, is a person on the verge of nervous breakdown, and there are sinister moments of her interaction with a repellent, fragile girl Melina, but Papoulia tries to save Hala, who is almost lost in such an impasse of despair. While staying close to her heart, Papoulia leads her like she must look at reality, even if it is utterly painful. In this process, Papoullia's fire in the mind fulfills the screen with irreplaceable warmth which envelops audience's heart. Wonderful is Dir. Charalambous' ability to bring this out, while it is hard to deny that Papoulia's exceptional performance is the best of all. "Patchwork" heralds the arrival of Petros Charalambous, a promising star of Cypriot cinema, as well as a celebration of Angeliki Papoulias, our bravest actor.
razzmatazzrazzledazzle.hatenablog.com
19. "Shang-Chi and the Legend of the Ten Rings" (Destin Daniel Cretton, USA)
Fists and kicks, leaps and sprints, language and culture that China has cultivated from ancient times to the present. The flow of Marvel overlaps with the one of its body and history. While cutting off the stagnant oldness in the blood, it reappears now as elegant newness by the volition to save the important things trapped there, which is open, resilient and beautiful. Filmmaker Destin Daniel Cretton saw the possibility of connection outside the family ("Short Term 12"), but also couldn't cut off his affection to the family ("The Glass Castle"), and it's inevitable that he, torn apart between newness and oldness, has made a new film about trembling conflict for "family". This is a film that breathed new life into Marvel.
18."Senior Citizen" (Marinos Kartikkis, Cyprus)
As long as we continue to live, we will grow old, which is inevitable as our fate. The body decays, the mind wears out, and in the end, everything disappears into voidness. Then, can there be salvation in this final journey of aging? This film presents such a question without easy answer to the audience, and I found one important thing in it. Life always has an end, which is called death. But there are countless other lives around it, and even after one death, these continue to live. Is this hope or just resignation, perhaps it is something we must continue to ponder until our own death comes. At the very least, "Senior Citizen" should give us this courage to continue.
razzmatazzrazzledazzle.hatenablog.com
17. "A nuvem rosa" (Iuli Gerbese, Brazil)
Peach-colored cloud which takes a life. Man and woman who are caught up in a room. This sinister, devastating drama draws out the life at the suffocating apocalypse whose cruelty is how the director discribes landscapes of gloomy futute or reality, which Coronavirus might bring in this decade. I want to advise those who are pessimistic about the future not to watch this film. There are films that directly respond to the Corona disaster, but while these are minimalist works written from a rather small perspective, this film is poignant to depict a never-ending blockage over a span of 10 to 20 years, which is probably because it was made in 2019 when nothing happened about this disaster. Its coincidence makes this film all the more terrifying now.
razzmatazzrazzledazzle.hatenablog.com
16. "From a Distant Place" (You Ishina, Japan)
What makes the film so moving is that while Ishina's direction and accumulation of details are abundant and conspicuous, what she is trying to portray is an extremely ambiguous sense of a Japanese word "warikirena sa / 割り切れなさ". The family, including Iori, cannot simply hate their father, nor can they love him. The theme of the film is what to do with subtle ambiguity between these simple feelings. The director does not give an obvious answer to its theme or question, but, while leaving the ambiguous things still ambiguous, she tries to dive into the ambiguity of emotion deeply. This sincerity in "From a Distant Place" makes our hearts tremble in tranquillity.
razzmatazzrazzledazzle.hatenadiary.com
15. "Las vacaciones de Hilda" (Agustín Banchero, Uruguay)
What Agustín Banchero tries to portray in this film is the pain of Hilda, a middle-aged woman, and what we find in it is frigid loneliness, wreckage which may have been called love, and remained scent of a happiness that she used to have. And they might be loneliness of living, the sheer loneliness that we may have, or we will. Will there ever be a time when this wound is healed? The landscape Hilda sees at the final moment strongly rejects an easy answer to this question. Loneliness is such a tremendous thing.
razzmatazzrazzledazzle.hatenablog.com
14. "Crai nou" (Alina Grigore, Romania)
Devastatingly asphyxiated, "Crai nou" fits sinistely into the word "iad", which means "hell" in Romanian. A woman, who has been thoroughly victimized and oppressed, acts as a perpetrator who hurts others in order to survive in this oppressive patriarchial society, and in fact, she is becoming an aggressor as well, lost in the dangerous territory between victimhood and aggressorhood. Here we are forced to ask ourselves, is this the only way the weak can live in this world? Despair at its peak from Romanian contemporary cinema.
razzmatazzrazzledazzle.hatenablog.com
13. "Sweetie, You Won't Believe It" (Ernar Nurgaliev, Kazakhstan)
You can call this film crime-comedy or horror-comedy. However, what is evident from its mise-en-scène is the deep knowledge of not only genre film history, but film history itself. Just learning and following the trends of genre films will probably produce interesting works, but watching films that are outside of these trends and absorbing their techniques can further deepen genre films, not as the deconstruction of it, but enrichment of genre pleasure. Some may laugh, but every time I watched the brilliant tracking shots in this film, which was unobtrusively, neatly fitted into the narrative, I was reminded of the long history of the tracking shot, in other words, I felt the accumulation of film history in this film. "Sweetie, You Won't Believe It" is an extraordinary horror-comedy that goes to great lengths to explore the joys of genre cinema. The film, which received rave reviews at the Sitges Film Festival, and its director, Ernar Nurgaliev, are the shining comets of the 2020's genre cinema, and will surely make the future even bloodier and meatier.
razzmatazzrazzledazzle.hatenablog.com
12. "Blind Love" (Damien Hauser, Kenya)
In a word, this film is too free. The director throws diversely weird elements, about which I don't want to spoil, into this romantic comedy, and presents something explosive while abandoning any sense of consistency. And it takes the audience to an unexpected, unbelievable place. At least for me, the second half of the film was so astonishing that I could only open my mouth stupidly wide, speachless for a long time. I had no idea that such a smiling romantic comedy could turn into pure weirdness like this. Every year I watch so many movies as I watched in this year, but "Blind Love" is definitely the most controversial movie of the year. Seriously must-see, but what the hell was that movie about?
razzmatazzrazzledazzle.hatenablog.com
11. "Super Hero Senki" (Ryuuta Tazaki, Japan)
While relying too much on the old-fashioned idea "the creator of the story is God," this film, utilizing the 50-year history of Kamen Rider series, generates meta narrative at the most extreme level, and its result is a celestial celebration of the will to weave stories in order to live, and the possibility that stories continue beyond its creator's death. This is the infinity that could only be created in Japan. When I saw this work, I felt that a work had appeared that should not be missed when talking about the best of the 2020s in ten years' time. And, very personally, Hiroshi Fujioka, actor of the first Kamen Rider appeared at the end sequence, whose final words made the person sitting next to me cry, and I cried too. My life with tokusatsu really flowed like a phantasmagoria.
10. "France" (Bruno Dumont、France)
"France" is a creepy film about the karma of white people, and yet I felt not only antipathy but even sympathy for Léa Seydoux as France. I realized that, as an artist, I wanted to get closer to this dangerous space between sympathy and antipathy. No human being is an ideal object of only sympathy or only antipathy because life is a mixture of the two, although we are forced to cut out a part of it when we try to depict life as art, which ends up with these fake ideals. But this is what an artist must avoid, because the place between the two is where the excrement of human psychology appears. So I choose not easy abandonment of sympathy by Carax's "Annette", but this excrement of humans in Dumont's "France".
razzmatazzrazzledazzle.hatenablog.com
9. "Un endroit silencieux" (Elitza Gueorguieva, Bulgaria/Belarus)
As a person with incurable diseases like Crohn's Disease or Autism Spectrum Disorder, watching world movies and learning languages is like journey into the world itself. In this sense, the greatest journey to me is probably writing in foreign languages, especially Romanian, my beloved language, and being a novelist and poet in Romania. I don't seriously know why I'm in such situation, but I really enjoy writing in a new language, different from Japanese, my own one, with gigantic honor that my work has been recognized by Romanian people. While watching "Un endroit silencieux," a masterpiece of writing in other language, I was able to feel this joy once again. So I want to thank this film and director Elitza Gueorgieva.
razzmatazzrazzledazzle.hatenablog.com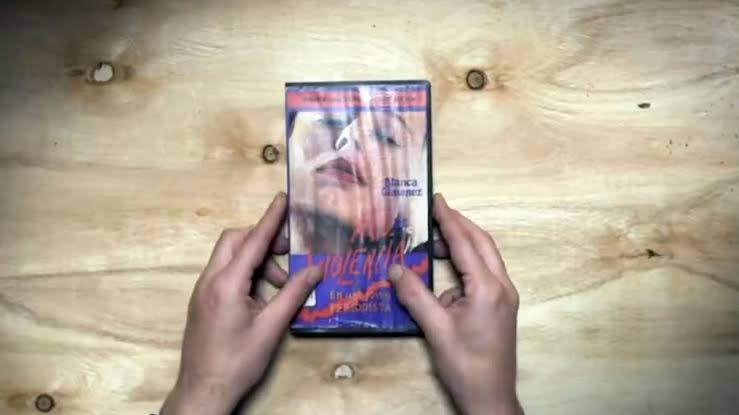 8. "Directamente para video" (Emilio Silva Torres、Uruguay)
Watching this one-and-only documentary "Directamente para video" is like a journey through the unfathomable labyrinth that exists within human mind. Or should I say the abysmal darkness of human psyche? I can't find right words for it even now, but  at least this is a truly unforgettable work that exposed eye-opening reality and deadly alluring demons in VHS and Z-class movies, with some kind of premonition  that I will never forget this film. I can't help but be amazed at what the director Emilio Silva Torres has created.
razzmatazzrazzledazzle.hatenablog.com
7. "Advokatas" (Romas Zabarauskas, Lithuania)
Marius is a white cis gay man with wealth and fame, and Ali is a bisexual Arab man who became a refugee after fleeing the turbulent Syria. Marius tries to maintain his love for Ali, confronted by the reality of refugee life, and above all by his own white  privilege and self-righteousness. Nevertheless, Marius learns from the words of NGOs and activists, engages deeply in dialogue with his loved one, and goes beyond discrimination and hardship. "Advokatas" is a gem of a gay romance that takes on the sadness and cruelty that fills the world, shining as sincerity itself needed to be made now.
razzmatazzrazzledazzle.hatenablog.com
6. "Topology of Sirens" (Jonathan Davies, USA)
Our protagonist, moving into the house of her deceased aunt, finds small cassette tapes among a musical instrument left by her, and pursues the mystery of the tapes. Still, from such a detective story, this beautiful tale of wandering in mystique  unfolds into unexpected territory where spaces expands tenderly, echoes fill them elegantly, and our heart melts into the sound, wavering between relief and disquiet. And the wholehearted love for experimental music, through a small journey of chasing memories, transforms into a great kindness to the world. This film became an irreplaceable wonder for me.
razzmatazzrazzledazzle.hatenablog.com
5. "Interfon 15" (Andrei Epure, Romania)
The year 2021 was another breakthrough year for Romanian film industry. First, Radu Jude's newest "Babardeală cu bucluc sau porno balamuc" won the Golden Bear in Berlin, five Romanian films were screened at Cannes, and "Imaculat" won the Best Film at Venice sidebar Venice Days and the aforementioned "Crai nou" won best prize in Competition at San Sebastian Film Festival. Among them, the one that impressed me the most is "Interfon 15", a short yet unforgettable gem about the emptiness of human existence, rich in the Buddhist word "shogyou mujou 諸行無常"  ("the impermanence of all things") by which I was quietly moved. If my short story in Romanian becomes a film, its director must be Andrei Epure of "Interfon 15", I hope.
4. "Kasouken No Onna The Movie" (Ryousuke Kanesaki, Japan)
From the opening sequence, which begins and ends with a falling, this film about the ethics of "falling" on cinematic context made my mind straighten up. And "Kasouken no onna" is originally tv series and, this "The Movie" is exquisite crystallization of its creaters' earnestness of putting the series on screen and entertaining people as a film. I was genuinely touched by the creator's answer to this question, so ridiculously straightforward and moving that they can take it one time only. This is the film making me want to say that I watched "film" in the truest way.
3. "Kom hier" (Marieke Elzerman, Belgium)
This film depicts the daily life of a woman who works at a pet shelter and, she experiences the difficulty and suffering of living with pets or living with others who are different from herself. However, as the gaze of the two women intersect awkwardly yet intimately, her suffering gradually dissipates, from which we can hear a whisper with heartbreaking warmth like "still, we want to live with someone". "Kom hier" is a truly, truly sincere and beautiful film about love itself.
razzmatazzrazzledazzle.hatenablog.com
2. "98 segundos sin sombra" (Juan Pablo Richter, Bolivia)
There are many moments that children have to live desperately because they haven't had much time yet to learn how they live in this world full of pain and sadness, but they can't avoid them while they shouldn't have such moments, of course. If you look at our shitty society now, you will know this only for a moment. And here many children are about to be crushed by the despair of being born, which is too heavy to bear. Still, there are adults who are trying to be close to their heart for sure. And "98 segundos sin sombra," a Bolivian coming-of-age drama, is the fruition of magnificent sincerity with which adults, or the creators of this film, try to fulfill their responsibility to children living in this harsh reality. Austere kindness needed now.
razzmatazzrazzledazzle.hatenablog.com
1. "Reminiscence" (Lisa Joy, USA)
Just one thing I want to say is that "Reminiscence" is a poem. No, it is not a visual poem. This is a poem that can only be written by a person who has been betrayed by the voice, who has been overwhelmed by the voice, and who has continued to believe in voice, nevertheless. And then, how can people entrust the words they have written to someone, like Lisa Joy, whom I envy from the bottom of my heart, as an artist who lives with words? This is a poem about life and beautiful despair within it, which can only be reached by such heartbreaking trust. At the end of 2021, when I was diagnosed with an incurable disease, experiencing other upheavals, I am very glad to watch "Reminiscence".
1. "Reminiscence"
2. "98 segundos sin sombra"
3. "Kom hier"
4. "Kasouken No Onna The Movie"
5. "Interfon 15"
6. "Topology of Sirens"
7. "Advokatas"
8. "Directamente para video"
9. "Un endroit silencieux"
10. "France"
11. "Super Hero Senki"
12. "Blind Love"
13. "Sweetie, You Won't Believe It"
14. "Crai nou"
15. "Las vacaciones de Hilda"
16. "From a Distant Place"
17. "A nuvem rosa"
18. "Senior Citizen"
19. "Shang-Chi and the Legend of the Ten Rings"
20. "Patchwork"